Listing Turkey Property Guide – Beyoglu
Listing Property Guide – Beyoglu, we will cover all the things you should know before buying property in the most famous district of Istanbul, Beyoglu.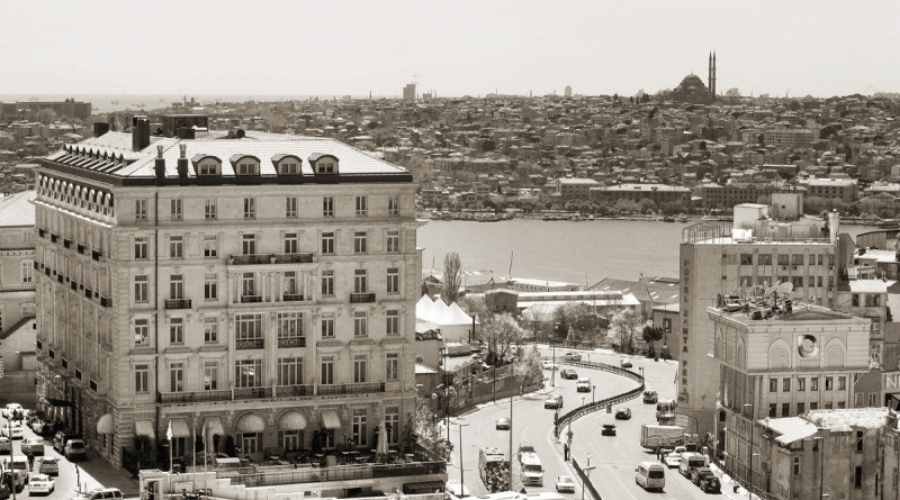 Being from Beyoğlu
Since the 15th century, Beyoğlu has been the place where the most active and quality life in the history of Istanbul took place. Beyoğlu Mahallesi is a multicultural living space rarely seen globally, combining this historical face with its cultural heritage and commercial life.
Beyoglu district, where the most beautiful examples of art are located, has the most popular entertainment venues and iconic brands of Istanbul, making it one of the most beautiful places to be preferred for life. Moreover, it is a structure pioneer in trade and banking and maintains its importance for the district and the city today.
Besides its dozens of prominent features, the most crucial feature of Beyoğlu is that it has been a privilege for people to live in Beyoğlu from history to the present. The only part that makes Beyoğlu Beyoğlu is its people. The definition of Beyoğlu would be incomplete without the contributions of its inhabitants to social life. In the formation of its structure adorned with different cultures and civilizations, it is the love of those living in Beyoğlu as well as those living today. As a Beyoğlu resident and, most importantly, a fan, he defines himself as "A Beyoğlu Classic"; It is a privilege to be worthy of Atlas Passage, Tramway, Taksim Chocolate, Galatasaray High School and the most beautiful Golden Horn. Historical and touristic, vital cultural centers, consulates, and many more are located in Beyoğlu. Here you can find a specially prepared illustrated version of the other essential places for Beyoğlu.
History of Beyoglu
There are various rumors about the emergence of the name Beyoğlu. According to one; The name Beyoğlu comes from the fact that one of the Pontus princes, Alexios Komnenos, accepted Islam and settled here during the reign of Mehmed the Conqueror. According to the second; The resident here is not the Pontus prince, but Luigi Giritti, son of Andre Giritti, the Venetian ambassador in Kanuni. This man, whom the Turks call "The Gentleman's Son," was born from the ambassador's marriage to a Greek woman. The mansion he lives in is also in a place near Taksim. According to another; Since the Venetian ambassador, who lived here during the reign of Suleiman the Magnificent, was called Beyoğlu in correspondence, this district was also named Beyoğlu.
It was gradually forgotten after the name Pera was removed from official correspondence in 1925. But, on the other hand, the name Beyoğlu became more substantial and widespread in the sense of the region.
Where is Beyoglu?
Today, Beyoğlu district is a settlement consisting of 45 neighborhoods and a settled population of approximately 225 thousand. Due to being a business, entertainment, and cultural center, the district's population reaches several million people day and night. According to some, Beyoğlu is the region stretching from Karaköy to Taksim. Some say it consists of a section extending from Tünel Square to Taksim.
Today, in the Beyoğlu district of Istanbul; It covers the area bordering Şişli and Beşiktaş districts, between the west of Kasımpaşa valley to the north of the Golden Horn and the Dolmabahçe (Gazhane) valley. However, the name Beyoğlu is used for Istiklal Street and its surroundings, one of the city's most important cultural, entertainment and business centers, and connects Galatasaray to Taksim Square.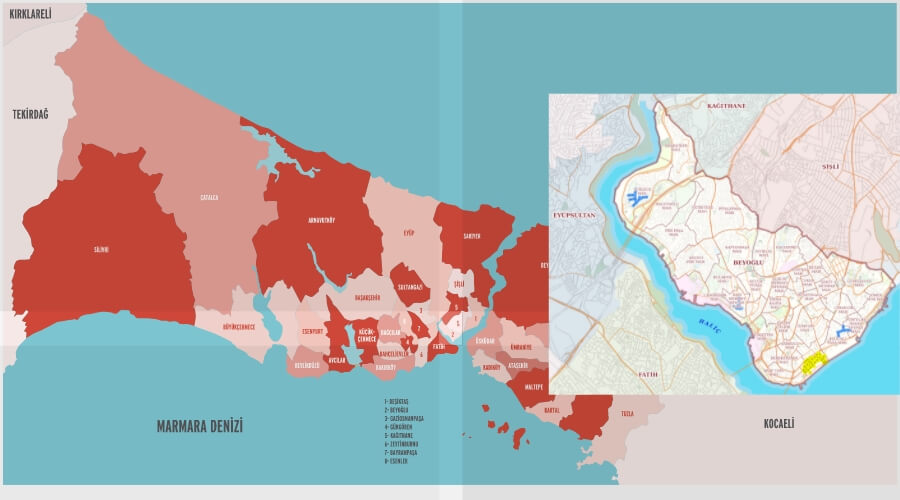 Main Residential Areas of Beyoglu
Property Guide
:
Neighbourhoods

Arapcami

Asmalı Mescit

Bedrettin

Bereketzade

Bostan

Bülbül

Camiikebir

Cihangir

Çatma Mescit

Çukur

Emekyemez

Evliya Çelebi

Fetihtepe

Firuzağa

Gümüşsuyu

Hacıahmet

Hacımimi

Halıcıoğlu

Hüseyinağa

İstiklal

Kadımehmet Efendi

Kalyoncu Kulluğu

Kamer Hatun

Kaptanpaşa

Katip Mustafa Çelebi

Keçecipiri

Kemankeş Karamustafapaşa

Kılıçalipaşa

Kocatepe

Kulaksız

Kuloğlu

Küçükpiyale

Müeyyetzade

Ömeravni

Örnektepe

Piripaşa

Piyalepaşa

Pürtelaş Hasan Efendi

Sururi Mehmet Efendi

Sütlüce

Şahkulu

Şehitmuhtar

Tomtom

Yahya Kâhya

Yenişehir
Beyoglu District
Beyoglu is one of the most popular districts of Istanbul, famous for its lively atmosphere, Galata Tower, Istiklal Street, Taksim Square and cultural activities. With its traces of the European architecture of 100 years, Beyoglu and around is worth visiting and seeing for the Istanbul visitors. Taksim, Karakoy, Galata & Tophane are the most popular tourists zone and neighborhoods of Beyoglu.
Districts

Ayaspaşa

Azapkapı

Çıksalın

Çukurcuma

Dolapdere

Fındıklı

Galata

Galatasaray

Hacıhüsrev

Hasköy

Kabataş

Karaköy

Kasımpaşa

Kuledibi

Şişhane

Taksim

Talimhane

Tarlabaşı

Tepebaşı

Tophane

Tünel
Property Prices in Beyoglu
In the Beyoglu housing market, house prices for sale increased by 3.5 percent in the last month. While the average residential square meter prices in the Beyoğlu district were 6,883 TL, the payback period was calculated as 13 years.
Accordingly, in the 2021 real estate index and regional report, the average price of a 100 square meter house purchased in Beyoğlu was between 516,233 TL and 860,400 TL.
Istanbul Beyoglu Average Depreciation Period 13 Years.
Finally, the average square meter unit price of apartments for sale in Istanbul Beyoglu is 4 thousand 291 TL as of December 2021. The amortization period of flats for sale with similar features is around 13 years.
Listing Turkey – Reasons to invest in Beyoglu
Property Guide
Proximity to the heart of the city
Cultural and touristic hub with old heritage

Next to hospitals, universities, mosques, public transportations

High short term rental income
Check out the property options in Beyoglu. 
List of Most Popular Listings in Beyoglu Area – Listing Property Guide
Contact us to be updated regularly to receive updates about new Listings.
Connect With Us: Facebook –  Instagram – YouTube – Twitter –  Medium
Check Out:  Properties For Sale, Properties For Sle Kadikoy, Properties For Sale Kagithane, Properties For Sale Sisli