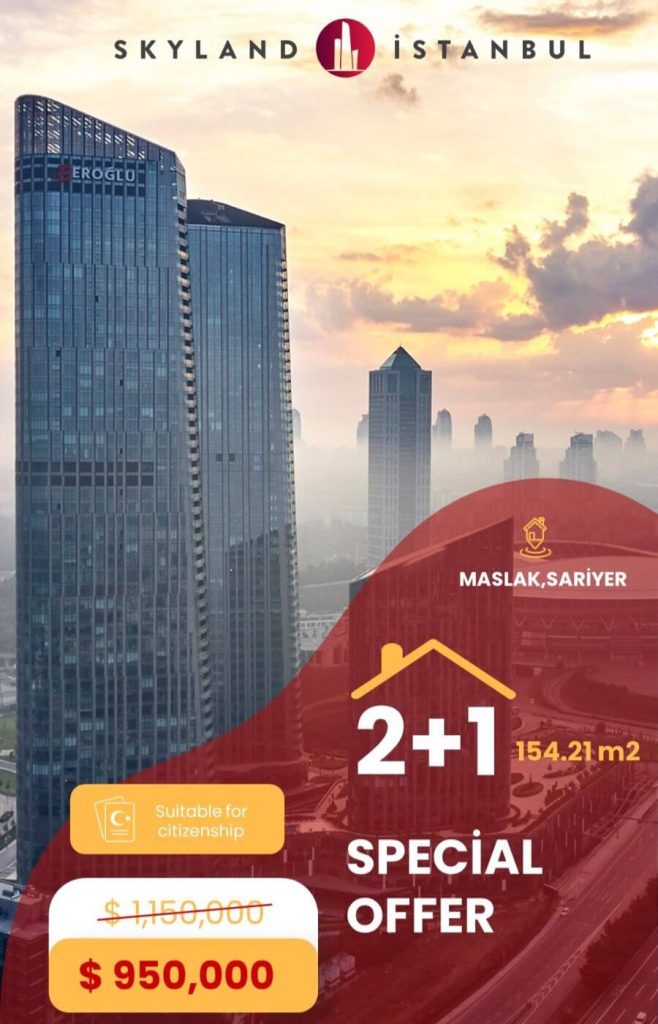 Looking for a luxurious and modern place to live in Istanbul? Look no further than Skyland Special Prices!
This stunning complex offers a variety of amenities, including a concierge, fitness and wellness center, and swimming pool. And now, for a limited time, you can get a special discount on cash payments.
Contact Us
To learn more about Skyland Special Prices and the special price campaign, please contact us today. We would be happy to answer any questions you have and help you find the perfect home or office for your needs.
Save big on your purchase
Variety of amenities
Centrally located between Levent and Maslak
360° view of Istanbul
Smart home technologies
Located next to the Belgrade Forest
Skyland Special Prices for A New Standard for Luxury Real Estate
This offer is only available for a limited time, so don't wait! Act now and secure your dream home at Skyland Istanbul!
The developer can change the terms and conditions of the campaign without prior notice. Contact our consultants to receive up-to-date information regarding our campaigns and the special promotion for the apartments for sale in Istanbul.
Unique experiences, comfort and technology in all! In addition to social facilities, such as a concierge, a fitness and wellness center, and a swimming pool, a fascinating view of Istanbul awaits you at Skyland Istanbul, which offers a variety of amenities ranging from studio apartments to 4+1 apartments.
Besides smart home technologies, the city's largest oxygen source, the Belgrade Forest, is located right next to Skyland Istanbul.