Are you an international investor looking for a prestigious real estate project in the heart of Istanbul? Look no further than Quasar Istanbul.
Located in the bustling Mecidiyeköy neighborhood, Quasar Istanbul is a luxurious and upscale project that offers a range of options for business, living, and entertainment. The project, which was launched in March 2013, is located on the land of the old liquor factory and includes offices, residences, shopping malls, hotels, and culture and art areas. The project was designed by Emre Arolat and Marcel Wanders, and has an investment value of 500 million Swiss francs.
The project comprises 257 residences, 58 offices, 4 cafes, and 17 stores. The project is expected to offer high returns for its investors, with rents in the region starting at around $3,000 to $3,500. It is expected that rents in Quasar Istanbul will be higher than these figures, and when the project is completed, residents can expect to earn at least twice their investment.
One of the standout features of Quasar Istanbul is its commitment to sustainability and harmony with nature. The project boasts a 5000 square meter grass area with nearly 80 trees, including historic plane trees, providing a green oasis in the bustling city. In addition, the project has a central heating and cooling system, indoor parking areas, and a closed-circuit monitoring system (CCTV) to ensure the safety and comfort of residents.
One of the highlights of Quasar Istanbul is the Fairmont Quasar Istanbul hotel, which offers a unique Istanbul view and endless possibilities for memorable experiences. The hotel's architectural structure is sure to impress, and the 24/7 security and technical service provided by the project ensure that guests can relax and enjoy their stay.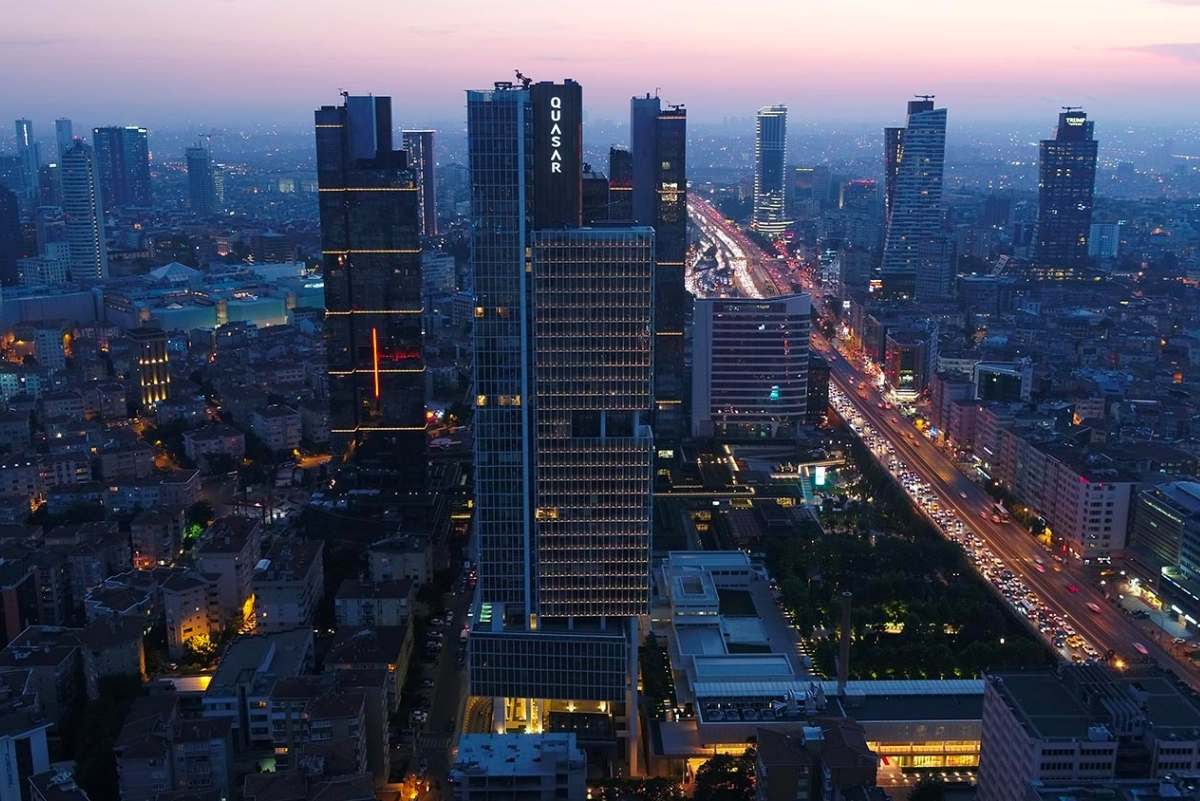 But the project is not just about luxury and comfort – it's also conveniently located in the heart of the city. The project is within walking distance of the most lively square in Istanbul, and the city's many attractions and amenities are easily accessible.
Overall, Quasar Istanbul is a unique and upscale real estate project that offers a range of options for business, living, and entertainment in the heart of the city. Its central location, luxurious amenities, and expected high returns make it an attractive option for international investors looking to invest in Istanbul. The project is presented by İş portfoy quasar gyf, a division of İş Bankası, one of Turkey's leading commercial banks. Don't miss out on this opportunity to invest in one of the most prestigious real estate projects in Istanbul.
We are working beside you, so our investors can find their dream property listings without paying any extra cost or commission.
Connect With Us: Facebook –  Instagram – YouTube – Twitter –  Medium
Check Out:  Properties For Sale, Properties For Sale Kadikoy, Properties For Sale Kagithane, Properties For Sale Sisli
"OpenAI (n.d.). AI language model. Retrieved from https://openai.com."