Genyap Link Project is a secret gem that offers particular financial advantages to its investors. Let's find out what it provides by Listing Guide – Genyap Link Istanbul.
Unlike traditional real estate consulting and realtor firms, ListingTurkey is committed to providing up-to-date, accurate listing services in Turkey subsidized by developers. As ListingTurkey, we are bringing to gather international investors with the Turkish real estate developers. In addition, we try to provide as many details as possible via Listing Guides such as this one. 
ListingTurkey is an international platform that opens projects to new horizons and is a trusted partner for investors. We constantly strictly evaluate a project that meets specific criteria before listing it.
That is why every project in our portfolio delivers a certain level of quality and trust for the following criteria;
Developers financial

The legal status of the project

Project zone assessment

Market analysis

Construction calendar

Material Quality

Location

Proximity to the main roads and junctions

Access to Public Transportation

Investment Value
Whenever we prepare a Listing Guide such as Genyap Link Istanbul, we try to provide as much detailed information as possible; however, we still advise all investors to conduct their research beforehand. In addition, contact our advisors for detailed information. 
General Information – Genyap Link
Location: Kagithane/ Istanbul / Turkey
Function: Residential, Commercial Units
Construction Area: 4.286 m²
Completion Date: 2022/2023
Genyap Link offers unmissable living and investment opportunities with flat options from 1 + 1 to 4 + 1.
Link, which consists of 4 blocks 414 apartments and 2 shops in an area of approximately 5,000 m2, is located in Kağıthane, the center of Istanbul. In addition, the project, which is just minutes from the metro, offers many opportunities for investors with many social facilities such as a terrace pool, fitness, and sauna.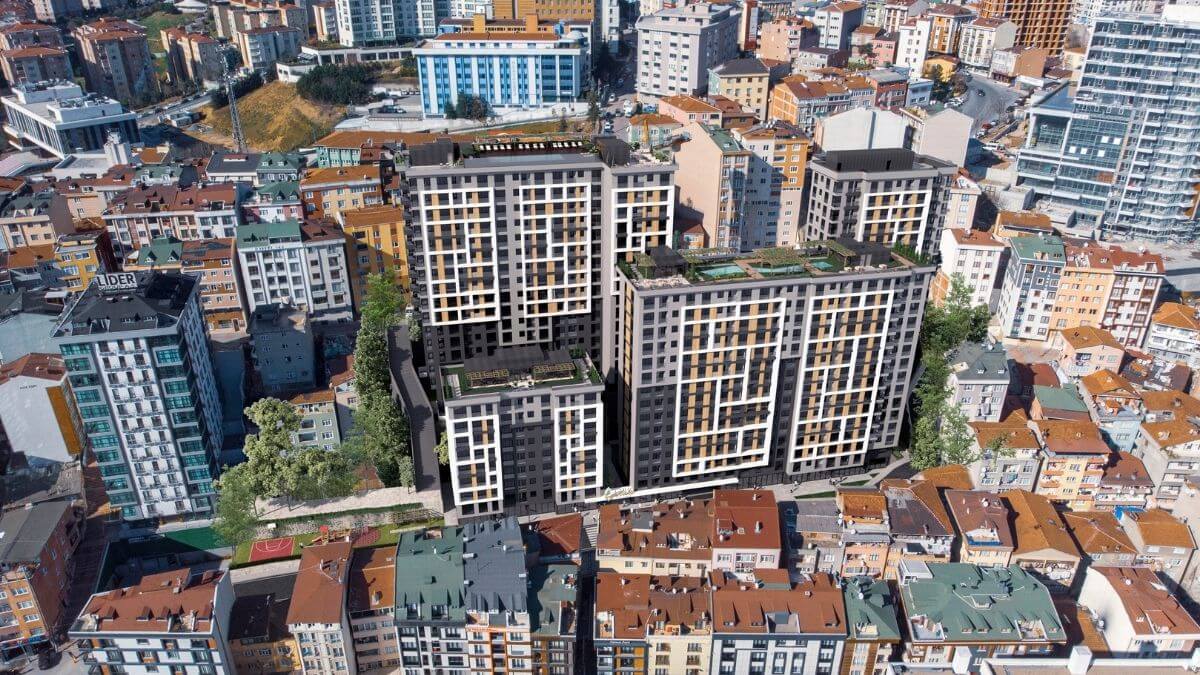 We will evaluate Genyap Link project in the following categories;
Developer

Location

Construction Calendar

Material Quality

Investment Value
Genyap offers exclusive offers like buyback or rental guarantees. So Genyap Link is one of the few projects that provide the highest return on your investment. Likewise, Location wises most of the investors buying units for investment and Citizenship purposes. 
Developer – Genyap Link
The developer of Genyap Link is Genyap, which has completed many projects in Kagithane region. Similarly, Genyap is a well-known and reputable residential developer. 
You can see further details of Genyap  and other projects in our Developers section. 
For more developers like Genyapı, please check Listing of Developers. 
Location – Genyap Link
Thanks to its perfect location, Genyap Link Kağıthane brings you everything you are looking for. As a result, it is not a coincidence that Kağıthane is gaining more and more value since it is one of the most popular investment locations in Istanbul. Because its location provides easy access to everywhere, the nearness of everything you need is just a few of the features that make this place unique. Just a few meters away from the metro, Genyap Link Kağıthane is even closer to the furthest points of Istanbul than anywhere.
You can see the further details of Kagithane in our region's guide. 
You can see the alternative projects in the Kagithane region here. 
Construction Calendar – Listing Guide – Genyap Link Project
Genyap Link consists of 4 blocks; the construction started in 2020, and the planned delivery is in 2 years. So Genyap Link will be delivered in 2022.
Material Quality – Listing Guide – Genyap Link Project
Like all the other Genyap projects, Genyap Link Kağıthane is built with high standards too. Its living spaces are meticulously designed so that they suit all tastes and meet all expectations. For Genyap, quality is a non-compromised phenomenon. That is why every square meter of Genyap Link Kağıthane is full of well-considered details.
 
With its gym, swimming pool, sauna, and steam bath, Genyap Link Kağıthane is not only your home but also your living space designed to keep you healthy. Green areas that welcome you at almost every corner, playground, football, volleyball and basketball mini fields offer many alternatives for you and your children to have pleasant times.
Investment Value – Listing Guide – Genyap Link Project
The projects in Kagithane area always offer the highest returns from your investment; as a result, Genyap Link investors will be looking at high returns after delivery. Overall all projects have gained value in Kagithane area. However, Genyap projects are differentiated from this group thanks to their experience in the neighborhood. 
Besides, location-wise, Kagithane will be the next developing zone and rising star of Istanbul. So overall investment value of the district is on the rise. 
The average prices of the Kagithane area have increased 63.7% in the last five years, which is relatively higher than the average of Istanbul. 
This increase is 45% in the last three years; the Kordon project price increase over the previous three years is around 50%. Which is proves its worth in financial reports. 
Overall – Listing Guide – Genyap Link Project
Developer 4/5 

Location 4/5

Construction Calendar 4/5

Material Quality4/5

Investment Value 5/5
Connect With Us: Facebook –  Instagram – YouTube – Twitter –  Medium
Check Out:  Properties For Sale, Properties For Sle Kadikoy, Properties For Sale Kagithane, Properties For Sale Sisli