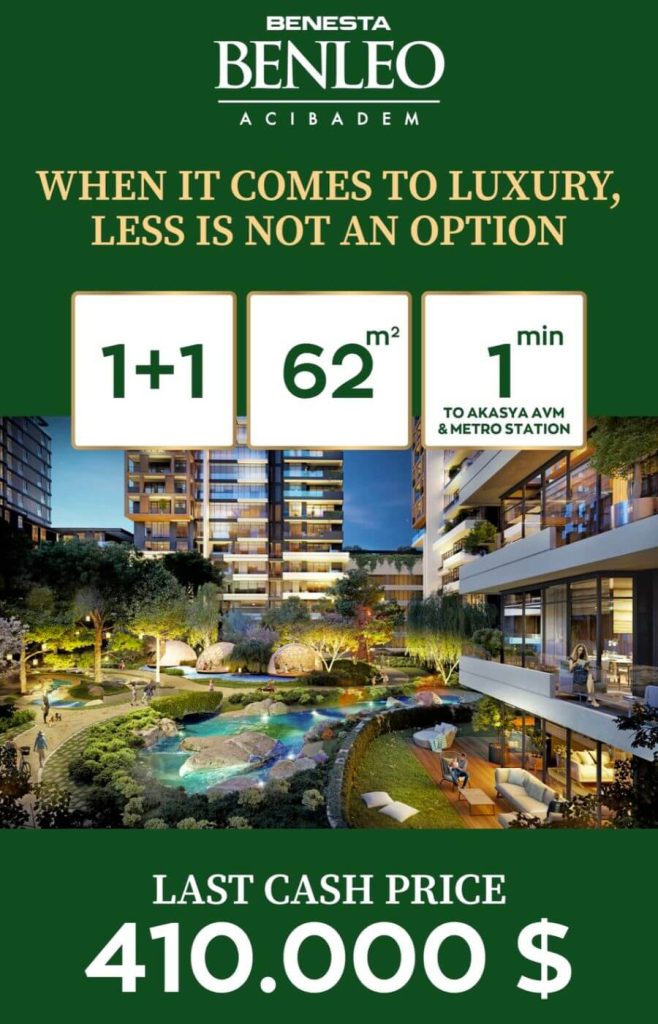 Benesta Acibadem Homes offers a privileged life with specially designed apartments, different living options, and a wealth of life and design functionality. In the project, from 2+1 to 6+1 type flats, garden, roof duplex and simplex options are available. In living alternatives, 3/4 meters net ceiling heights according to the design, min 10 / 100 m2 open area balcony garden use in each flat, Benleo park is a concept intertwined with nature. Social facility for the residents and a life that integrates with the neighbors. Benesta Acibadem Homes, the new address of rising value…
Benesta Acibadem Homes: The Best Address for a Luxury Lifestyle
Introduction:
Benesta Acibadem Homes is a new residential development located in the heart of Acibadem, Istanbul. The project offers a unique lifestyle that appeals to all the wishes of the consumer in terms of life. It has an incredible location advantage at the point closest to the European side of the Anatolian side.
The project is surrounded by nature, with the Gata Forest as its neighbor and the Benleo park, which is the size of 2 football fields, being built. The bottom of this park is entirely natural soil, providing a green and breathing life in the city's center.
Location:
Benesta Acibadem Homes is located in the heart of Acibadem, Istanbul. This is a prime location, close to everything you need. The project is just a short walk from schools, hospitals, shops, and restaurants. It is also close to public transportation, making it easy to get around the city.
Amenities:
Benesta Acibadem Homes offers a wide range of amenities, including:
Spacious and well-designed apartments
Variety of living options
State-of-the-art amenities
Community-oriented atmosphere
The developer can change the terms and conditions of the campaign without prior notice. Contact our consultants to receive up-to-date information regarding our campaigns and the special promotion for the apartments for sale in Istanbul.
For a limited time only, Benesta Acibadem Homes is offering special prices on select apartments. This is a great opportunity to own a piece of this exclusive development.
If you are looking for a unique and luxurious lifestyle in the heart of Istanbul, Benesta Acibadem Homes is the perfect place for you. Contact us today to learn more.