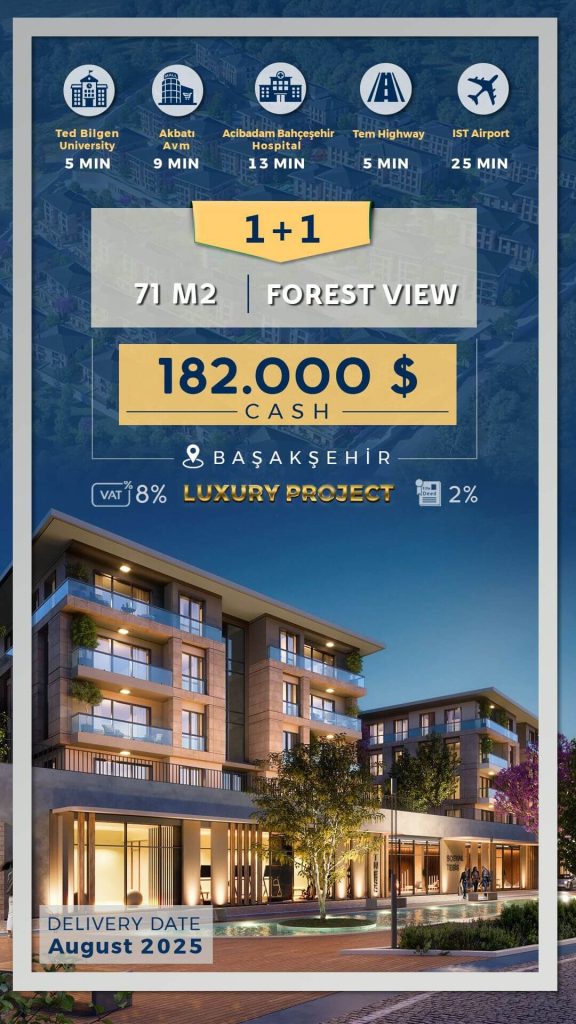 Bahce Bahcesehir is a luxury real estate project in the prestigious district of Bahçeşehir, Istanbul. It offers a diverse range of living spaces, from elegant 1+1 apartments to luxurious 4+1 garden villas. The project has been carefully crafted with meticulous attention to detail, using world-class materials and integrating functional and modern architectural lines.
Bahce Bahcesehir Apartments also offers an unrivaled lifestyle experience. There are 705 square meters of indoor social areas, as well as 47,700 square meters of meticulously landscaped gardens. For convenience and accessibility, there are 527 indoor parking lots.
Residents of Bahce Bahcesehir Apartments will enjoy a life of peace, security, and happiness. This exceptional real estate project invites you and your loved ones to indulge in a world of luxury, where every detail is designed to enhance your well-being.
To celebrate the launch of Bahce Bahcesehir Apartments, we are offering special price campaigns on a limited number of units. These campaigns offer significant discounts on the purchase price of your new home.
With its exquisite design, impeccable craftsmanship, and unrivaled lifestyle amenities, Bahce Bahcesehir is the perfect place to call home. Whether you are looking for a spacious apartment or a luxurious villa, we have the perfect home for you.
Our special price campaigns offer you the opportunity to own your dream home at a fraction of the cost. Don't miss out on this amazing opportunity to live the luxury lifestyle you deserve.
Contact us today to learn more about Bahce Bahcesehir Apartments and our special price campaigns.
The developer can change the terms and conditions of the campaign without prior notice. Contact our consultants to receive up-to-date information regarding our campaigns and the special promotion for the apartments for sale in Istanbul.