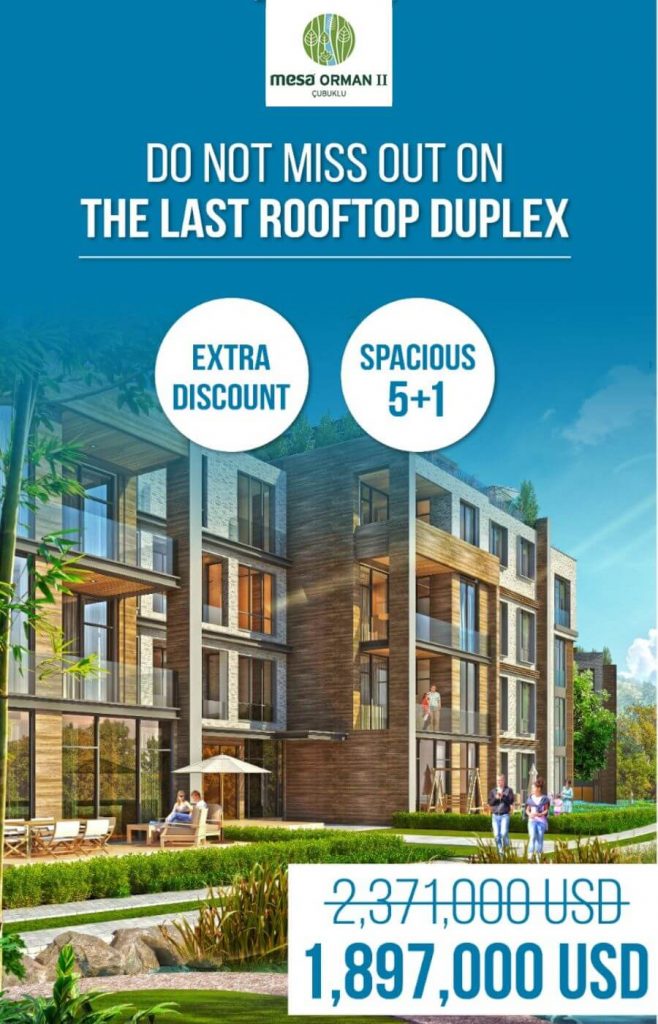 Mesa Orman Roof Special Duplex Offer
Mesa Orman Roof Special Duplex Offer suitable for Turkish Citizenship by Real Estate Investment; the campaigns are available for a limited time and in stock.
The green Journey begins with the Mesa Orman project.
Green, the symbol of nature, surrounds Mesa Orman, the neighbor of a rare and treasured forest in İstanbul, with all its shades and inspires the setting of beautiful living space. A peaceful world, just beside a living atmosphere. The peace and dynamism you find within Mesa Orman will keep embracing you even when you get out of its borders.
Fashionable cafés, gourmet restaurants, boutique shops, sports and educational facilities available around Acarlar Neighbourhood, which is nearby, enable you and your family to meet all your needs.
Its unique landscaping brings you in touch with the green; its waterways connect you to the blue waters.The jogging track allows you to do your morning run in the forest air without needing to travel far away. The inner garden located in the middle of the project that functions as a courtyard gives Mesa Orman a peaceful and quiet atmosphere.
5+1 – Spacious Roof Duplex
List Price: $2,371,000
Cash Price: $1,897,000
Ready to move, suitable for Turkish Citizenship
The developer can change the terms and conditions of the campaign without prior notice. Contact our consultants to receive up-to-date information regarding our campaigns and the special promotion for the apartments for sale in Istanbul.