Imagine a lifestyle where your mornings begin with the soft rustling of leaves and the scent of nature all around. Evinpark Kemer presents the epitome of luxurious living with our exclusive 2+1 ground floor residence, complete with a tranquil garden terrace.
Property Details:
Spacious 128 square meters of interior space
Your own private garden oasis
Thoughtfully designed 2 bedrooms and 1 living area
Unmatched quality and craftsmanship
Price Tag: $349,000 USD
Your Garden Retreat in Istanbul
Step into your personal sanctuary, where the indoors seamlessly blend with the outdoors. With 128 square meters of well-appointed living space, you'll have all the room you need for comfort and relaxation. The 2+1 layout offers versatility and style, making it the perfect choice for families, professionals, or investors.
Private Garden Terrace
Sip your morning coffee or host intimate gatherings on your private garden terrace. This green haven becomes an extension of your living space, allowing you to connect with nature in the heart of Istanbul. It's not just a home; it's a retreat.
Unbeatable Value
At Evinpark Kemer, we believe in delivering exceptional value to our clients. Our 2+1 ground floor residence with a garden terrace is competitively priced at $349,000 USD, ensuring you get the best of both worlds: luxury and affordability.
Don't miss this opportunity to make Evinpark Kemer your new address in Istanbul. Contact us today to schedule a viewing or for more information on this exclusive property. Your dream home awaits amidst the green oasis of Kemerburgaz.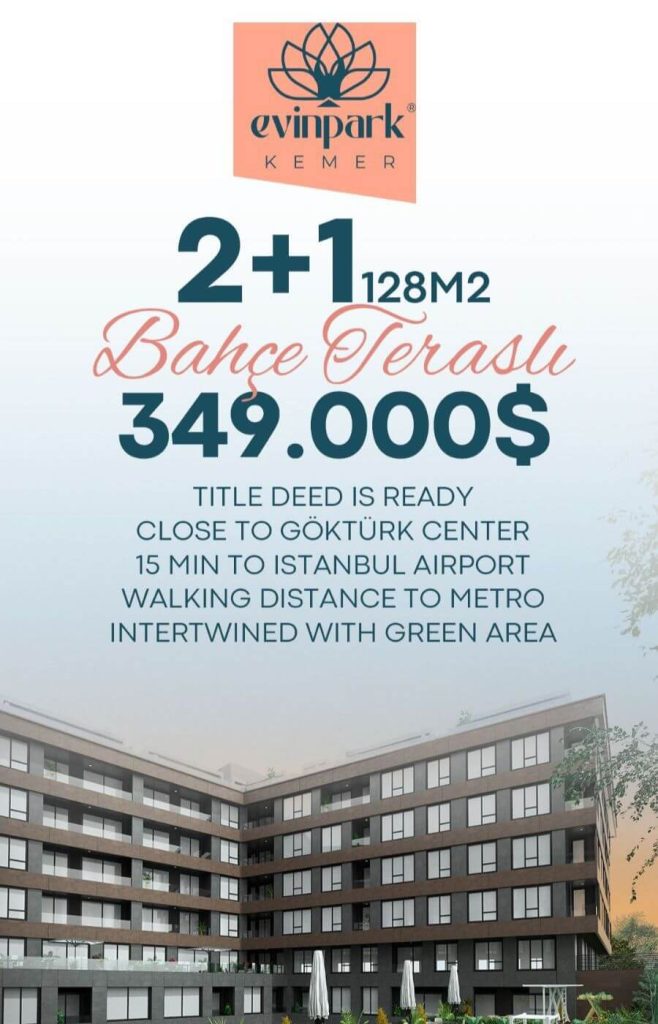 The developer can change the terms and conditions of the campaign without prior notice. Contact our consultants to receive up-to-date information regarding our campaigns and the special promotion for the apartments for sale in Istanbul.